The biggest day for shopaholics all across the nation is almost here, and with the progression of this famous day throughout the years, we're expecting 2016's to be one for the horror books. But is Black Friday really worth the hassle? Sure, there's no denying that sales are great, but are the deals good/rare enough to warrant a 3 AM wake up call, wicked long lines, and a frantic atmosphere? As Ron Weasley once concluded, "She needs to sort out her priorities." Here are a few reasons why you don't need to feel pressured to participate in Black Friday this year (or ever).
It's so stressful: Black Friday makes the holiday season about 20 times more stressful. It is basically the living embodiment of a Where's Waldo picture. Everyone is agitated from lack of sleep and possibly the over-abundance of wine the day before, making them twice as savage as the average human being. Have you seen Mean Girls? You know when Cady can't stop picturing all the passive aggressive girl-fights as if they were animals in the jungle? Yeah. Enough said.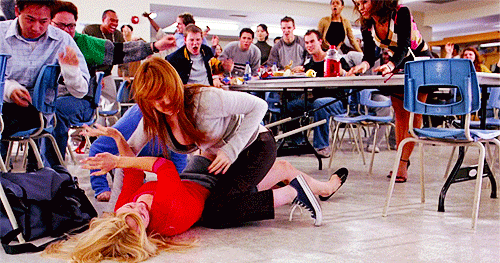 Are the deals really worth it? Of course the biggest enticing factor of the day are the sales, but for what they're offering, is all the madness that makes up a Black Friday shopping excursion worth it? Stores will continue to host holiday sales throughout the season and it may require a bit of research to figure out when, but I'd take that over fighting with some mom over a pair of shoes any day.
Do you actually need what you're buying? I know that when I go to the mall under regular circumstances, half of the time I end up buying things I don't need just because they're right in front of me. Thinking of that but with twice the sales…I can see my wallet shrinking right before my eyes. And then comes the post-shopping guilt + buyer's' remorse. I can't.
Is it even fun? No. Initially, you look may forward to the new clothes or accessories, or crossing items off your Christmas shopping list. Perhaps you and your friends or family decide to make an event of it which makes it exciting. Heck, maybe you just get hyped for the excuse to chug a Peppermint Mocha from Starbucks. Regardless, once the adrenaline wears off, the exhaustion seeps in, and the people get cray, the novelty is pretty much out the window. If you do it for the mocha though, we feel ya.
Is it relevant anymore with Cyber Monday? Cyber Monday is basically the equivalent of Black Friday except you don't have to get dressed or leave your house. That is literally the best scenario you could ask for. Plus, think of how much wider the range of places you can shop are. They don't have to be in your city and you don't have to waste the time physically getting from one place to the next, aka running errands (*vom*).
And better yet, what about Small Business Saturday? The Saturday after Black Friday was named Small Business Saturday in 2010 and since, the trend of shopping small has really taken off. There's nothing like supporting your neighborhood boutique and local artisans – especially if you're gift-shopping! You're purchase is bound to be more unique and not only are you investing back in your own community, but it makes your gift that much more special. Even better, shopping local is one of the most sustainable ways you can shop. Local means less transportation, less pollution, and it greatly reduces the environmental impact of your purchases. Can we get an amen for Small Business Saturday? This is definitely a movement we can get behind.
Finally, I ask you…why end your Thanksgiving festivities early to get up at the crack of dawn for? Let's not forget what the holidays are really about – family and focusing on the things we are thankful for and wine. Taking away from the festivities that should be precious to you feels kind of like interrupting that holiday spirit. Also, can you eat as much on Thanksgiving if you have to wake up that early the next morning? I, personally, go into a 12 hour turkey coma and you know what? I wouldn't have it any other way.
If you do decide to cut your post-turkey nap short though and go for it, be sure to have a plan. Here are 10 tips to help you find the best Black Friday deals and keep you from blowing your budget.
The point is, you don't really don't need Black Friday, guys. Ultimately, it's up to you, but me? I'll be stuffing my face, curling into a blanket burrito, and staying that way until the next day. Regardless of whether you decide to take the plunge or turn into a human potato for 24 hours, I hope everybody has the happiest of Thanksgivings!
Xx,
Marisa
Inspire your friends' style by connecting closets and creating outfits on the Hanger app.
Sign up now!
GET HANGER
Marisa is a digital marketing intern at Hanger this fall and beginning her last semester of college at the University of Missouri-St. Louis studying Mass Communications. Outside of school and work life, Marisa loves to read, write, drag her friends to scary movies, and sing in the car. She's also a big fan of wine, chocolate, and the St. Louis Blues. Marisa would love to someday move to a big city and travel all over the globe to experience different ways of life!
Contact Marisa: [EMAIL]
Imagine being able to say "Alexa, ask Hanger to find a pair of shoes and a small purse to go with my Kate Spade dress for this weekend" and instantly getting recommendations from your favorite brands on your phone or nearest display.